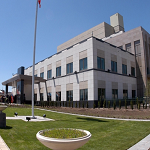 Description
Embassy of Armenia - United States Embassy of Armenia is located along the Highway of Yerevan Etchmizdzin. The embassy said it was the largest among all the embassy of United State which has the area of about 90" "469 Sq./meter.
Visa Inquiry:
Non-immigrant:
For Iranian Only: IranNIVYerevan@state.gov
For Other Countries: consyerevan@state.gov
Immigrant :
Armenian Immigrant: ivyerevan@state.gov
Iranian Immigrant: IranIVYerevan@state.gov
General Inquiry: consyerevan@state.gov
Send Message
Please
log in
to be able to send messages to the listing owner.