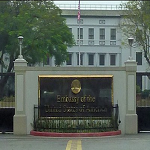 Description
Philippine US Embassy - US Embassy is located at Roxas Blvd. Metro Manila formerly Dewey Boulevard. Some of its function are political" economic administrative " consular affairs and public diplomacy.
Email:
General Query:    consmanilaniv@state.gov
Seafarer Query:    mnlnivsea@state.gov
Appointment Query: ManilaECON@state.gov
Send Message to listing owner
Please
log in
to be able to send messages to the listing owner.