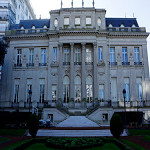 Description
Argentina Embassy - Caesar A Rodney was the first appointed US Ambassador of Buenos Aries. On June 1944 diplomatic relations between two country was temporary interrupted and after a year of 1945 the relationship between them was resume.
Visa Inquiry Email: bns-visas@state.gov
Send Message
Please
log in
to be able to send messages to the listing owner.