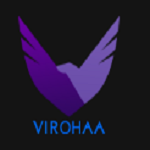 Description
Virohaa is a Digital Marketing Agency specialized in Search Engine Optimization (SEO). SEO is the most effective way of getting more clients online. We can multiply the number of visitors to your website with our result based SEO services. We can bring more traffic to your website and more clients to your business than any other online source. Our SEO Agency is based in Dubai and we provide SEO service in all over UAE" Middle East and the UK. The advantage you will get with us is we are a part of world's strongest network of SEO Experts. Our Dubai SEO Experts are always up-to-date with the latest research and information. We can not only bring your website on page one of Google but we can rank it number one for the keywords related to your market. Going further we are not even satisfied with number one ranking we can provide you multiple ranking on Google page one giving you complete domination over your competitors. We can help you getting more clients using the same formula that is generating more revenue for our other clients Right Now.
Our other services include Content Marketing Online Reputation Management Web Design Social Media Marketing Video Marketing and much more. So we are a full service digital marketing agency. Call us @ +971 56 354 7115 or fill out our Discovery Form (https://virohaa.com/discovery-page/) for free consultation.
Send Message to listing owner
Please
log in
to be able to send messages to the listing owner.