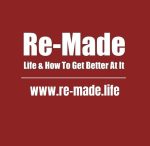 Description
Re-Made is an aggregated media site" dedicated to tracking down the best ideas in the world today that can help us all lead a life of happiness.
Re-Made is a living library of what it considers to be the most thought-provoking uplifting and life-transforming information available in more than 60 different subject areas ranging from addiction breakdowns failure psychological blocks shadow work and emotional pain to healing gratitude flow states neuroplasticity grit self-reliance and synchronicity.
The site features the world's most insightful minds in the fields of psychology parapsychology neuroscience philosophy and the healing arts ranging from Gabor Maté to Robert Greene Brené Brown Ken Robinson Byron Katie Peter Levine Dean Radin and Joseph Campbell.
Each section is populated with a variety of articles books interviews documentaries talks podcasts and anything that Re-Made can find that it thinks can contribute to the knowledge base in each particular area.
To date 1 000+ films trailers articles clips TV interviews books podcasts radio shows tips techiques webisodes workshops & webinars have been hand-picked from 100+ top quality print film " tv and digital brands - and the site is growing by the day.
Send Message
Please
log in
to be able to send messages to the listing owner.